Local, Natural, Delicious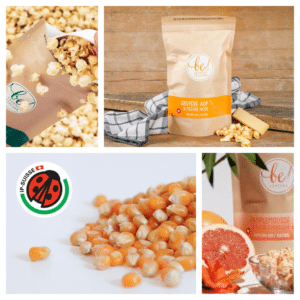 Healthy fabrication
A popcorn made from IP-Suisse corn that pops in a hot air machine so that the corn pops
without fat
.
Healthy and light popcorn
is obtained thanks to this method of fabrication.
Made in Switzerland
A unique savoir-faire and a craft production in the northern edge of Lausanne (VD). A Swiss company that supports local producers businesses.
Unique crispness
No more sticky popcorn, Be! Pop Corn developed a secret method of fabrication to obtain crispy popcorn without conservative, nor chemical additive.
Quality Packaging
A quality packaging that can be reused as a vase or pot for aromatic plants Be creative!
Delicious coating
Our popcorn is coated with
100% natural and delicious ingredients
selected with the utmost care.
No conservative or chemical additive
are added to our product.